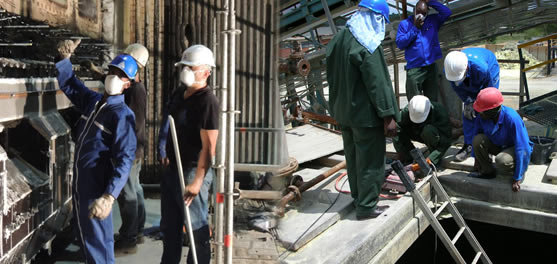 Refractories Product Range
Alumina Silicate
Basic
Silicon Carbide
Fused Silica
Insulation
High Abrasion
Corrosion / chemical resistance Material
Preformed Shapes
Refractory Anchor Products
Comprehensive range of common anchor shapes and sizes
Full in house design
Range of stainless steel and nickel alloys
Repairs to all Refractory Equipment
Repair and conversions to all makes of gunnite machines
Supplier of all spares and accessories for gunnite machines
Repairs and supply full range of spares for pan mixers
Lubricants Range
Oil
Full range of fully synthetic oils
Food grade oil
Hydraulic oil / non-flammable hydraulic fluid
Gear oil
Soluble oil
Compressor oil
Mould release oil
Anti-corrosion oil
Lubricating oil
Bio degradable degreasers
Grease
Lithium grease
Calcium grease
Lithium complex grease
Poly urea grease
Aluminium complex grease
Bentonite grease
Pastes anti seize up to 1400°C
Rod + rock drill grease
Food grade grease
Open gear grease
Insulation
Full range of Ceramic fibre blanket and modules 64 – 128 density
Calcium/silicate boards from 25 – 50mm
Ceramic twisted rope and webbing from 6 – 50 mm
Glass webbing tape 40mm – 50mm.
Installation
Installation of refractory materials Casting/guniting/plastering
Repairs to ladles, tundishes, precast shapes, all related refractory applications.
Cetek Applications
Refinery Process Heaters
Catalytic Reformers
Delayed Cokers
Crude
Vacuum
Visbreakers
Hydrocrackers
Pyrolysis Furnaces
Olefins cracking
Vinyl Chloride
Steam Methane reforming
Styrene
Metal
Annealing
Forging
Radiant Tubes
Recuperator Tubes

Utility
CETEK provides various technical services to our customers including infrared imaging and pyrometer surveys.